Hold up: Repealing health reform costs $230 billion??
(Read article summary)
When the health care law was enacted, the CBO said it would save $145 billion. Now, the CBO says it will cost $230 billion to repeal. Why?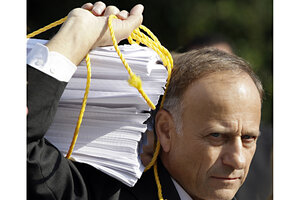 Alex Brandon / AP / File
Last spring, the Congressional Budget Office estimated that the new health legislation would reduce the deficit by $143 billion over ten years. Yesterday, CBO estimated that repealing that legislation would increase the deficit by $230 billion over ten years.
What gives? Why would it cost $87 billion more to repeal the law than was saved by enacting it?
The main reason is that the 10-year budget window moved. The health debate started in 2009, so CBO used a 10-year window that ran from 2010 to 2019. It's now 2011, so the repeal law will be judged against a 10-year window that runs from 2012 to 2021. The $230 billion figure reflects that longer window. Through 2019, the cost would be $145 billion.
The second reason is that the legislation President Obama signed last spring wasn't the final word on health reform. In December, Congress was struggling to find a way to pay for the infamous Medicare "doc fix", which now runs through the end of 2011. To do so, Congress decided to cut $15 billion from the subsidies created by the health legislation. Because those cuts reduced future subsidies, it is now $15 billion more expensive to repeal the overall health reform.
The third reason is that the original health legislation wasn't just about health policy. It also included fundamental reforms to the way the government subsidizes college loans. The repeal bill wouldn't undo those changes, which resulted in budget savings of $19 billion over 2010 to 2019.
---