Vague language is OK in early debt reduction talks
(Read article summary)
Non-specific terms like 'tax reform' and 'entitlement changes' help rally people around the idea that some changes must be made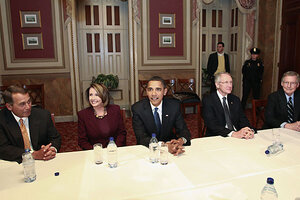 Jason Reed / Reuters / File
You may have noticed a flurry of letters lately calling on our elected leaders to do something about America's growing debt. First up were 64 senators. Then 10 former chairs of the Council of Economic Advisers. And today, 68 budget experts including yours truly.
Our message to President Obama and congressional leaders Boehner, Pelosi, Reid, and McConnell:
As you continue to work on our current budget situation, we are writing to let you know that we join with the 64 Senators who recently wrote that comprehensive deficit reduction measures are imperative, and to urge you to work together in support of a broad approach to solving the nation's fiscal problems. As they said in their letter to President Obama:

"As you know, a bipartisan group of Senators has been working to craft a comprehensive deficit reduction package based upon the recommendations of the Fiscal Commission. While we may not agree with every aspect of the Commission's recommendations, we believe that its work represents an important foundation to achieve meaningful progress on our debt. The Commission's work also underscored the scope and breadth of our nation's long-term fiscal challenges.

Beyond FY2011 funding decisions, we urge you to engage in a broader discussion about a comprehensive deficit reduction package. Specifically, we hope that the discussion will include discretionary spending cuts, entitlement changes and tax reform."
You may also have noticed that final phrase is decidedly non-specific. As my TPC colleague Howard Gleckman noted, there's a lot of euphemizing going on.
---