Can economics solve antibiotic resistance?
(Read article summary)
In the past, science has stayed a step ahead of antibiotic-resistant bacteria. But now, evolution and market failure are making it hard to do.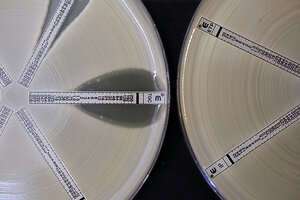 Suzanne Plunkett / Reuters / File
Scary theme of the week? Rising antibiotic resistance.
Megan McArdle highlighted this challenge in her presentation at the Kauffman bloggers event on Friday; if you have a moment, check out her chart at the 2:00 mark, showing that resistance to new antibiotics has been developing faster and faster.
You'll hear more about resistance later in the week, as the World Health Organization will make make it the focus of Thursday's World Health Day. It's also the subject of a helpful overview in this week's Economist.
Antibiotic resistance isn't new. Indeed, as the Economist notes, Alexander Fleming identified this threat in the 1940s. But it appears to be getting worse. Evolutionary pressure combines with market failure to speed the creation of resistant bacteria:
Convenience and laziness top the list of causes of antibiotic resistance. That is because those who misuse these drugs mostly do not pay the cost. Antibiotics work against bacteria, not viruses, yet patients who press their doctors to prescribe them for viral infections such as colds or influenza are seldom harmed by their self-indulgence. Nor are the doctors who write useless prescriptions in order to rid their surgeries of such hypochondriacs. The hypochondriacs can, though, act as breeding grounds for resistant bacteria that may infect others. Even when the drug has been correctly prescribed, those who fail to finish the course are similarly guilty of promoting resistance. In some parts of the world, even prescription is unnecessary. Many antibiotics are bought over the counter, with neither diagnosis nor proper recommendations for use, multiplying still further the number of human reaction vessels from which resistance can emerge.
---