Why free is a bad price
(Read article summary)
Even if a business can afford to give something away for free, like an iPad app, it may not always be the best pricing strategy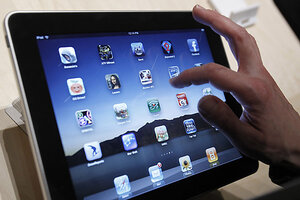 Marcio Jose Sanchez / AP / File
Marco Arment is the brains behind one of my favorite apps. Instapaper allows you to store articles off the Web for later reading; very useful, for example, when I am surfing and come across an article I want to share with my students or use in a future blog post. And the editor of Instapaper periodically shares excellent reads that I might otherwise miss.
Instapaper is currently available for both the iPhone and the iPad for $4.99. As Marco discusses in his blog, however, the iPhone version has sometimes been available for free (but with ads).
Based on his pricing experiments, Marco has decided that free is a bad model. In part that's because ads provide weak revenues, and it's expensive to support two versions of the app. In part it's because the free app cannibalizes sales from the paid version.
But that's not all. Another problem is that the free version attracts "undesirable customers":
Instapaper Free always had worse reviews in iTunes than the paid app. Part of this is that the paid app was better, of course, but a lot of the Free reviews were completely unreasonable.
---