How likely is 5 percent growth in a decade?
(Read article summary)
Presidential candidate Tim Pawlenty wants to grow the economy by 5 percent, just like Reagan and Clinton did. But are those wise examples to bring up?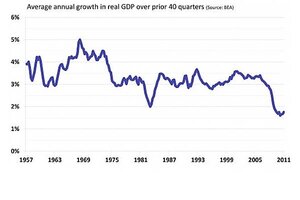 Donald Marron
How ambitious is Pawlenty's growth goal? Plenty.
In his economic speech on Tuesday, presidential candidate Tim Pawlenty set out an ambitious goal for economic growth:
Let's grow the economy by 5%, instead of the anemic 2% currently envisioned. Such a national economic growth target will set our sights on a positive future. And inspire the actions needed to reach it. By the way, 5% growth is not some pie-in-the-sky number. We've done it before. And with the right policies, we can do it again.

Between 1983 and 1987, the Reagan recovery grew at 4.9%. Between 1996 and 1999, under President Bill Clinton and a Republican Congress the economy grew at more than 4.7%. In each case millions of new jobs were created, incomes rose and unemployment fell to historic lows. The same can happen again.
In the aftermath of the Great Recession, it wouldn't be surprising to see a couple years of strong growth at some point. Let's hope it's soon.
But could we have remarkably strong growth for a full decade, as Pawlenty hopes? His two examples don't inspire confidence. In each case, strong growth ended in four years or less.
So when was the last time the United States grew at 5% for a full decade?
Mid-1958 through Mid-1968. Over that span, U.S. growth averaged exactly 5.0% per year.
But that's the only instance since World War II. Economic growth was lower than 5%, usually much lower, in every other decade since 1947 (see chart above.)
---