Why Republicans really want to repeal health reform
(Read article summary)
Republicans have labeled the health reform law a job killer, even though impartial analysts says it won't kill any jobs. Why? Because it dares to tax somebody – anybody.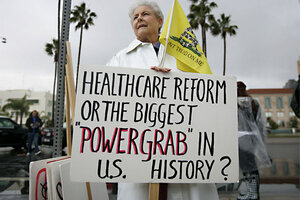 zumawire / Newscom / File
So, House Republicans have titled H.R. 2, their bill to repeal the health reform law passed last March, "The Repealing the Job-Killing Health Care Law Act." Except the health care reform bill wouldn't likely kill jobs, according to this analysis by the Center on Budget and Policy Priorities.
Meanwhile, CBO has explained that just as they had scored the health reform law as reducing–not increasing–the deficit (which by the way would mean that it would eventually raise national saving, grow the economy, and create jobs), repealing the (nevertheless so-called "job-killing") health reform law would actually increase the deficit.
---