Why the debt ceiling isn't actually a ceiling on debt
(Read article summary)
Increasing the debt limit guarantees that the US will pay the debt it has – it doesn't stop the government from going deeper into debt. That requires unpopular policy changes.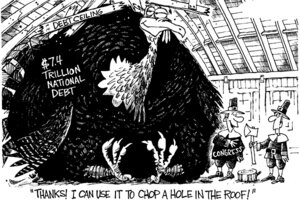 Joe Heller / Green Bay Press Gazette / File
Hmmm….. According to a Reuters/Ipsos poll released this week:
The U.S. public overwhelmingly opposes raising the country's debt limit even though failure to do so could hurt America's international standing and push up borrowing costs…

Some 71 percent of those surveyed oppose increasing the borrowing authority, the focus of a brewing political battle over federal spending. Only 18 percent support an increase.
Yet from the same poll (emphasis added):
Only 24 percent say the country can afford to cut back on education spending, a likely Republican target, and 21 percent support cuts to law enforcement.

With the Pentagon fighting wars in Afghanistan and Iraq, 51 percent supported cutbacks to military spending.

Less than half, 45 percent, support an expected Republican effort to pare environmental enforcement.

Some 53 percent support cutting the budgets of financial regulators like the Securities and Exchange Commission, in spite of the widespread consensus that a lax regulatory atmosphere contributed to the devastating financial crisis of 2007-2009.

And 47 percent support cutbacks to national parks, which were shuttered for several weeks during the budget battles of 1995 and 1996.
---