How will Obama react to the House's budget proposal?
(Read article summary)
The House Budget Committee just released a budget proposal that includes major cuts in spending and revisions to the federal income tax code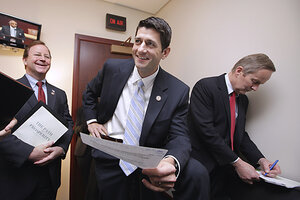 J. Scott Applewhite / AP
House Budget Committee Chairman Paul Ryan has released his budget proposal, which he explains in the very polished video below. (Q: Did "taxpayer dollars" pay for the production of that video?…) Here's the link to information on the Ryan budget on the House Budget Committee's website.
Major contours of his proposal are that the deficit is brought down to economically sustainable levels, but not eliminated, within a few years; revenues never rise above the ("magic") historical average of just over 18 percent of GDP; spending is brought down to around 20 percent of GDP within ten years and below 15 percent by 2050(!)–which is what it takes to get debt/GDP to come down while holding onto the revenue ceiling.
Ryan does the right thing by recognizing that a lot of "entitlement" spending in the federal budget actually operates through the tax code: he proposes fundamental tax reform that virtually eliminates tax expenditures–those deductions, exclusions, and other special provisions in the federal income tax. Doing that alone would raise a lot of revenue (in an economically efficient way) that could be used entirely for deficit reduction, but Ryan effectively "spends" it on reducing marginal tax rates instead. That's my biggest complaint about his proposal, strengthened by my opinion that it's unrealistic and perhaps downright cold-hearted to cut direct spending by as much as he's proposing.
UPDATE: The New York Times' David Brooks asks the same question I have (as I highlighted in my earlier post; emphasis added):
---