Is this really a raw deal for Democrats?
(Read article summary)
The deal put an end to the stalemate in Washington, but it did not actually do much in terms of policymaking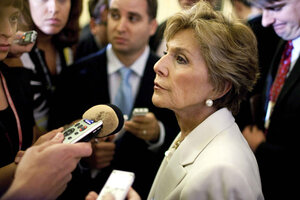 Joshua Roberts / Reuters
Bill Gale of the Brookings Institution provides an excellent summary of the good and the bad in the debt limit deal. The major "good news" is that if this breaks the impasse on passing an increase in the debt limit, the U.S. will avoid immediate default on its debt. The "bad news" is there wasn't much movement in terms of actual bipartisan policymaking, and the Democrats seem to have totally caved in to the Norquist-led entrenchment of the Republicans on taxes–as in No New Ones.
There are no revenue increases in this first round of deficit reduction, and if the second round's special committee of sitting members of Congress (yet to be named) fails to agree on enough deficit reduction, the triggered automatic cuts will leave tax policy untouched as well.
Bill puzzles over the Democrats' poor negotiating strategies on this issue:
[T]hat leads directly into the remarkable politics of the situation. The deal that was enacted is, politically, a complete capitulation by the Democrats. There are no tax increases as part of the initial trillion-dollar package. That package is all spending cuts, which was the original Republican position.

It's particularly notable that the deal is all spending cuts when public opinion clearly wanted a mix of tax increases and spending cuts. In just the most recent example of this fact, a July 18-20 CNN/ORC International poll showed that almost two-thirds of respondents preferred a deal with a mix of spending cuts and tax increases. Only 34% preferred a debt reduction plan based solely on spending reductions. Also, the plan that was enacted was significantly to the right of the Gang of Six proposal and the Bowles-Simpson commission. It's as if the two parties each started out on their own 25 yard line. The Dems moved to the 50 yard line, while the R's moved back to their own goal line. Then the agreement was settled on the Republican's 25 yard line, right where the Republicans started.
---