Zen deficit reduction?
(Read article summary)
The American public may have just convinced Congress to do a better job in negotiating deficit reduction the next time around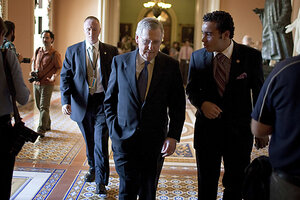 Joshua Roberts / Reuters / File
Sunday's Washington Post had this very hopeful front page story, with several quotes that give me optimism about the willingness of members of Congress to just do better in their deficit reduction negotiations the next time around. See, it turns out that the great peer pressure of the American public actually works. Skeptics may ask why the next round should be any different from the last round–it's not like we were lacking bipartisan policy ideas the last time around–but as the story and in particular Alice Rivlin explain, this time around really is different, politically, just because we've already lived through the last time around:
Committee members might be eager to have their deliberations at least appear less rancorous than the negotiations over raising the debt ceiling that resulted in the panel's creation.

But the tone of comments also suggests that after that hard-fought battle there might be a brief moment of opportunity to do what has eluded other bipartisan panels and special fiscal commissions.

"There's a potential for a bipartisan deal here. There has been for a while," said Alice Rivlin, a former White House budget director who chaired the Bipartisan Policy Center's Debt Reduction Task Force. "The new element is the revulsion of the country and the world at the spectacle that we have just lived through."
---
Follow Stories Like This
Get the Monitor stories you care about delivered to your inbox.