California: The green guinea pig
(Read article summary)
California has a chance to show the world how to balance greenhouse gas reduction with economic prosperity – if they can get it to work.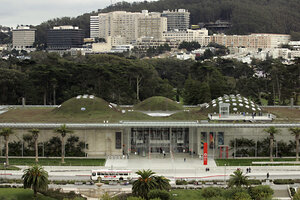 Robert Galbraith / Reuters / File
Now that the Republicans control the House of Representatives and Prop 23 has died, the California Air Resources Board (ARB) takes center stage with its rollout of AB32. Without being overly dramatic, California now stands as the world's best laboratory for figuring out how to balance greenhouse gas reduction policies while encouraging economic prosperity for all. There will be no one "action hero" here who saves the day for us all. In a state with over 35 million people, each of us will face the new rules of the game embedded in AB32. How we adapt to this new regulatory environment will yield crucial information concerning the true costs of decarbonizing our economy.
Given today's fossil fuel using economy, we face a nasty tradeoff between economic growth, and exacerbating natural resource depletion and the threat of climate change. China has recently engaged in a green big push of investment as its powerful state government offers cheap land and low interest loans to green businesses. AB32 will help to level this competitive playing field. It sends a clear credible signal to California's venture capitalists that those companies that can develop a new generation of low carbon products ranging from solar panels to electric vehicles will enjoy soaring sales. This green tech competition between China and California will only spur on the decoupling of greenhouse gas production from world GNP.
---