Love lives of Chinese men suffer from housing boom
(Read article summary)
In China's big cities, real estate's expensive and young women are in short supply. If the population spread more evenly into cheaper parts of the country, would it be easier for a guy to get a date?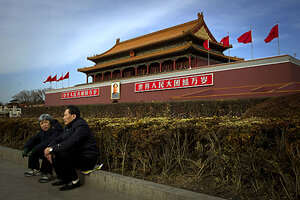 Vincent Thian / AP / File
[Editor's note: The author updated this post 4/16/11.]
China's urban marriage market is taking some predictable turns as young women are in scarce supply. This article argues that the young women have the bargaining power and they want to date a man with a car and his own apartment. In the big cities, housing is so expensive that many young men can't afford their own apartment.
Here is an excerpt from the original New York Times article:
"Sometimes I wonder if I will ever find a wife," said Mr. Wang, who lives with his parents, retired factory workers who remind him of his single status with nagging regularity. "I feel like a loser."

There have been many undesirable repercussions of China's unrelenting real estate boom, which has driven prices up by 140 percent nationwide since 2007, and by as much as 800 percent in Beijing over the past eight years. Working-class buyers have been frozen out of the market while an estimated 65 million apartments across the country bought as speculative investments sit empty.
---