How would you rank America's 300 cities?
(Read article summary)
There are different market tests that can economists can use to rank which cities are best, but there are some things those tests don't capture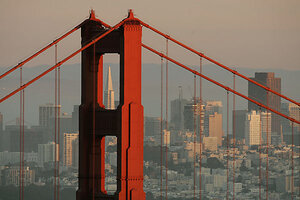 Robert Galbraith / Reuters / File
Ed Glaeser has recently written about his views on urban rankings. Permit me to offer my views.
The U.S has roughly 300 major cities. Could all 300 million Americans agree on their rankings from A to Z or would different people have different rankings? Put bluntly, how much would I have to pay the people who choose to live in San Francisco to move to Houston and how much would I have to pay the people who choose to live in Houston to move to San Francisco?
As economists, Glaeser and I would agreed that a market test of the desire to live in a particular city such as San Francisco is to calculate your annual income if you live there and to subtract off your annual rent for a standardized home. If this consumption is large, then an economist would conclude that this isn't a desirable city to live in. After all, suppose there is a great city to live in that offers a great quality of life, high wages and low rents. If such a paradise existed, everyone would try to move there and this would lower market wages at the location and raise the rents at the location until people were just indifferent between living there or not.
---