Political polarization of climate change is on the rise
(Read article summary)
It's time to find a good way to reconsider whether carbon cap and trade would eliminate jobs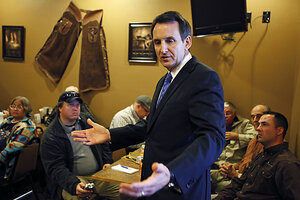 Charlie Neibergall / AP
Samuel Clemens published under the pen name of Mark Twain. If Al Gore had followed this strategy for "Inconvenient Truth" would we now have passed more aggressive Federal legislation for slowing the growth of greenhouse gas emissions? I do not want to put a heavy trip on the Vice President but the fact remains that there has been a recent divergence between Republicans and Democrats on the issue of climate change and reasonable people can ask "why"?
Consider this quote from a recent Republican Presidential Debate from Gov. Tim Pawlenty;
"Chris: in January you told me that you signed a bill to promote renewable energy sources, but, and here's the quote, we never did sign a bill relating to cap and trade in 2007 the bill you signed required a task force to recommend how the state could adopt cap and trade in 2008, you said I support a reasonable cap and trade system at the federal level. You made this ad for the Environmental Defense Action Fund. Let's watch.
---
Follow Stories Like This
Get the Monitor stories you care about delivered to your inbox.