Will Mexico City go green?
(Read article summary)
Beijing is turning into a 'green city,' and Mexico City is likely to follow, thanks to rising education and increased per-capita income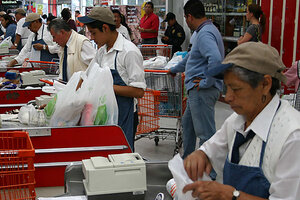 Asel Llana / Freelance / File
Young people may have more imagination than older people. This article talks about Mexico City today and the vision that at least three young people have to get rid of cement and rediscover rivers around the city's center. To quote the article;
"Look, they say, at the odd bend in the six-lane freeway, the Viaducto Miguel Alemán; or on the side streets, at the thicket of especially large trees. Better yet, walk the median, stare down the sewer grates and glimpse the cause: the Río Piedad, or Pity River.

To most urban eyes, it is just a hidden canal of trash and feces, paved over since 1952. But to these three, among others, it is a symbol of history lost, and perhaps regained. Ignore the cough, cough of exhaust, the stink and the cost, they shout over the traffic — think bliss."
Boston's Big Dig has reconnected that city to its water.
Two years ago, the NY Times wrote a similar article about Seoul, South Korea rediscovering its rivers and reclaiming its title as a "Green City".
What is going on? I would predict that rising education and per-capita income nudge such major cities to "demand green". This was the major theme of my 2006 Green Cities book.
There are costs and benefits to making the transition to being a "Green City"
---