Riddle me this, macroeconomists
(Read article summary)
Can the Fed intervene to 'stop panic' and, at the same time, make new rules so that future crises don't occur?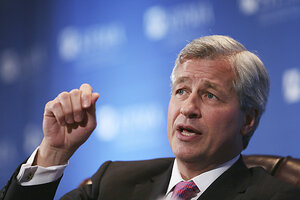 Mark Lennihan / AP / File
As a failed macroeconomist (and thus a current applied micro scholar), I would like to pose some riddles for my "macro" brethren. To set the scene, here is a high quality piece by Greg Mankiw sketching a short history of what macroeconomists do all day long. They are ambitious! Now let's fast forward to June 2011 and take a look at Andrew Ross Sorkin's piece in the NY Times today.
A Wall Street Wizard named Jamie Dimon has the audacity to challenge Professor Ben Bernanke with a tough counter-factual. Here is a quote from Dr. Dimon;
"I have this great fear that someone's going to write a book in 10 or 20 years, and the book is going to talk about all the things that we did in the middle of a crisis that actually slowed down recovery," he told Mr. Bernanke at a televised meeting of bankers in Atlanta, ticking off a laundry list of new regulations like higher capital requirements and a tax on systemically important financial institutions.
---