Can entrepreneurship save Pakistan?
(Read article summary)
We know that decades of aid haven't worked, writes guest blogger Dane Stangler. So what do we try now?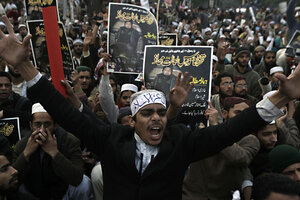 Chaudary / AP
The tragic assassination of Salman Taseer, governor of Punjab province in Pakistan, once again raises the difficult question of the links between economic opportunity, stagnation, and radicalism. Our recent work on Expeditionary Economics proceeds in part on the premise that economic growth is an integral part of social stability and national security for any country. We reject, however, any simplistic link between poverty and terrorism. As Joshua Foust has sardonically observed: "luckily, wealthy countries like Saudi Arabia never promote terrorism."
In this sense, Pakistan presents a challenge and an opportunity (or maybe those are the same thing). The country's economy is in dire straits and the running subtext in the aftermath of Taseer's killing has been that the Pakistani government subsequently rejected IMF demands to appease any further radical violence. It remains to be seen if that will work, but it seems unlikely that the IMF and international community will cease providing aid to a country as geopolitically vital as Pakistan simply because the country broke its pledge on fuel prices. What is more certain is that the country needs economic improvement, quickly. The flood of aid money into the country over the past two or three decades has not reduced poverty and has helped to further entrench the elite's control (particularly the military's) over the economy. The pressing question here is, can entrepreneurship save Pakistan's economy and, thus, save the country from going over a cliff?
---