Kids embrace the spirit of giving
Some start their own charities, tapping the Web to fund worthy causes.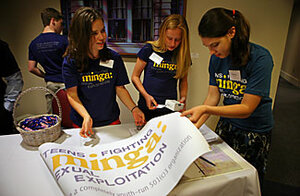 Melanie Stetson Freeman/Staff
The very rich and the very famous capture the headlines for their charitable giving. But another group of avid philanthropists is also leaving its mark. Young people from grade school on are engaged as never before in making a direct difference in the world. They are donating via the Internet to favorite projects overseas, creating their own nonprofits to pursue social causes, and becoming grantmakers on foundation boards to foster change in their home communities.
"It has become a value for young people to be personally involved," says Claire Gaudiani of the Heyman Center for Philanthropy and Fundraising at New York University. "Many have seen first-hand where the needs are and what a difference individual citizens can make."
Some youths have gained that awareness from volunteer activities. Many have seen celebrities take up worthy causes. Others have traveled with their families and encountered the challenges many children face in other countries.
Katie Simon, a teenager from Newton, Mass., says a lengthy family trip in the developing world when she was in second grade first opened her eyes. Then, when she heard two years ago about the child sex trade in some of those places, she knew she needed to do something.
"I learned about a rehabilitation center for children in the Philippines and talked with friends about raising $5,000 in a yard sale," says the 16-year-old. "People thought that was impossible, but we raised $6,500!"
Thrilled with their success, Katie founded an organization, Minga (mingagroup.org), to educate others about the scourge of child sex trafficking and to raise funds to fight it. (Minga is a word in Quechua, a native language of South America, which means "the coming together of a community to work for a common good.")
---