Tough year ahead for charities
While many firms are emerging from recession, nonprofits say 2011 could be worse than 2010.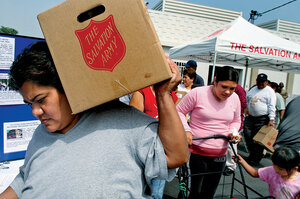 Aurelia Ventura/Newscom
If you donate money to save rain forests or support the arts in your community, experts at leading nonprofit watchdogs have a dire prediction for you. If 2010 seemed like a bad year for your favorite charity, just wait for 2011.
Already struggling this year, cash-strapped nonprofits face the prospect of continued high demand with even more cuts next year, especially for those organizations heavily reliant on state and local government funding. And those signs of a slow recovery for the rest of the economy probably won't come in time to buoy the charitable sector in 2011.
"Nonprofits are the caboose of the train," says Ken Berger, chief executive officer of Charity Navigator, a nonprofit ranking service based in Glen Rock, N.J. "We're the last to fall and the last to reemerge."
In fiscal 2009, giving fell 11 percent at the nation's top 400 charities – the worst drop since The Chronicle of Philanthropy started tracking nonprofit flows two decades ago. Small and mid-size nonprofits are on even shakier ground. Nearly 80 percent had less than six months' worth of cash on hand and 61 percent struggled with only three months' cash in reserves, according to a survey of nonprofit executives on their expectations for 2010. The result has been that many nonprofits have scaled back projects, laid off staff, reduced service, and even filed for bankruptcy protection.
And needs continue to grow. Demand for services at food banks and homeless programs are at peak levels, according to Mr. Berger. Take Feeding America, a Chicago-based charity that claims to feed 37 million people each year. While the organization's demand for services grew by 46 percent, its donations dropped by nearly 9 percent in 2009. The group's spokeswoman isn't expecting 2010 to be any better.
---