Sharing the plug: the evolving etiquette of charging stations
(Read article summary)
Gordon-Bloomfield explores the brave new world of electric car charging station etiquette.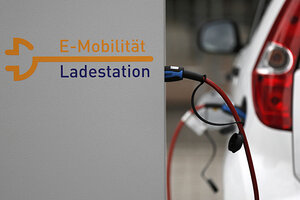 Alex Domanski/Reuters/File
Thanks to an increasing number of public charging stations, finding a place to recharge your electric car or plug-in hybrid is easier than ever before.
With recharging of a fully empty car like a 2012 Nissan Leaf taking up to 8 hours at a public level 2 charging station however, how should access to charging points be prioritized?
Should all-electric cars, for example, get preferential treatment over plug-in hybrids like the 2013 Chevrolet Volt?
It's a topic we've covered before, but thanks to a recent post by The New York Times covering a study by the University of California, Davis on charging etiquette, we've decided to revisit the subject.
At present, most plug-in car owners follow some simple, unwritten rules about charging etiquette, leaving messages on their car's windshield inviting other plug-in car owners to usurp them at the charging station if they need an urgent charge OR their own car is sufficiently charged already, or perhaps only charging if they really need to.
---