Honda recall: 870,000 minvans and SUVs for ignition defect
(Read article summary)
Honda recall of more than 800,000 Odyssey minivans and Pilot SUVs is the latest in what has been a recall-filled year for the automaker. The latest Honda recall involves ignitions that can release the key even when the car is not in park, allowing the vehicles to roll away.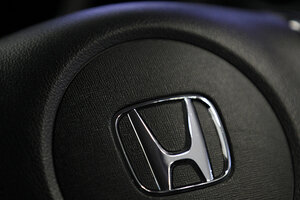 Kim Kyung-Hoon/Reuters/File
Honda will recall approximately 807,000 vehicles in the United States and approximately 63,000 in other countries due to a problem with the key ignition.
The recall involves about 318,000 Honda Odyssey minivans and 259,000 Pilot SUVs from the 2003 and 2004 model years, as well as approximately 230,000 Acura MDX vehicles from the 2003-2006 model years.
The problem is a potential malfunction with the ignition interlock feature, which keep keys locked into the ignition when a car is not in park. Without it, a key can be removed when the vehicle is in drive, neutral, or reverse, and the car could move when it shouldn't.
"The ignition interlock mechanism can be damaged or worn during use," Honda America's statement on the recall reads. "If this happens, it may become possible to remove the ignition key when the automatic transmission shift lever is not in Park. If the transmission is not in Park and the parking brake is not set, the vehicle could roll away, and a crash could occur."
Honda has received several customer complaints about the problem, and says in its statement that it knows of two incidents that may have resulted in minor injuries.
Honda will notify vehicle owners by mail this coming February. At that time, customers affected by the recall can take their vehicles to Honda dealerships for a repair at no charge.
---