Could Google buy Tesla? Should it?
(Read article summary)
Telsa ultimately may be acquired by a large global automaker, but a new column suggests a different suitor – Google. Would it be a good idea for Tesla and Google to join forces?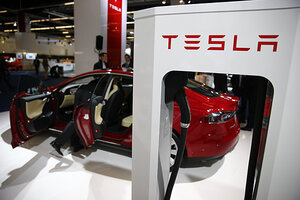 Kai Pfaffenbach/Reuters/File
Speculating on what will happen to Tesla Motors [NSDQ:TSLA] can be endlessly entertaining, and the discussions have taken up terabytes of server space already.
But last week, a Forbes contributor suggested an intriguing notion: Should search giant Google buy Tesla?
The conventional wisdom has been that ultimately, Tesla's backers and board will sell the company to a large global automaker.
Such an acquirer could provide the parts-volume efficiencies and enormous capital resources required to grow production into the hundreds of thousands a year--ultimately perhaps millions.
Of course, Tesla has several times proven the conventional wisdom wrong--which is to say, the company built an astoundingly good car that has been snapped up by many thousand buyers already.
In fact, at its current production rate, the company will have more than 26,000 cars on global roads by December 31.
And Tesla has already surpassed four other fabled automotive startups: Delorean (9,000 cars), Bricklin (2,850 cars), Fisker (2,000 or more cars), and Tucker (a mere 51 cars).
So perhaps the company can remain independent, though the odds are still against it.
But where does Google come in?
---