Stonehenge skeleton: Ancient traveler died near the famous monument.
Stonehenge skeleton unearthed by British scientists appears to be the remains of a teenage boy who died around 1550 BC. Forensic anthropology reveals that he traveled from the Mediterranean — and he's not the only traveler from a distant land who found his way to the famous monument.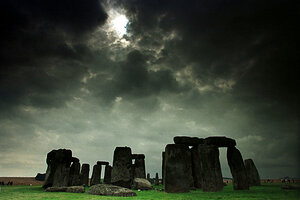 Dan Chung / Reuters / File
LONDON – A wealthy young teenager buried near Britain's mysterious Stonehenge monument came from the Mediterranean hundreds of miles away, scientists said Wednesday, proof of the site's importance as a travel destination in prehistoric times.
The teen – dubbed "The Boy with the Amber Necklace" because he was unearthed with a cluster of amber beads around his neck — is one of several sets of foreign remains found around the ancient ring of imposing stones, whose exact purpose remains unknown.
The British Geological Survey's Jane Evans said that the find, radiocarbon dated to 1550 BC, "highlights the diversity of people who came to Stonehenge from across Europe," a statement backed by Bournemouth University's Timothy Darvill, a Stonehenge scholar uninvolved with the discovery.
"The find adds considerable weight to the idea that people traveled long distances to visit Stonehenge, which must therefore have had a big reputation as a cult center," Darvill said in an e-mail Wednesday. "Long distance travel was certainly more common at this time than we generally think."
---