In US, a job means less than it used to
Rather than making jobs more important, the recession is causing workers to put more emphasis on home and family, a new study finds.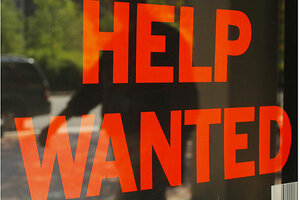 Brian Snyder/Reuters/File
Jobs may be in short supply, but they're not nearly as valued as they used to be.
That's the finding of researchers at Florida State University's (FSU) College of Business, who found that the recession has left Americans questioning the wisdom of career-related sacrifices, including time away from family, less leisure time and fewer self-improvement activities.
The researchers discovered that rather than causing Americans to put a greater emphasis on the importance of having a job, the recession and high unemployment have instead, shifted workers' focus toward home and family.
Nearly half of the 1,100 full-time employees surveyed by the researchers said the recession has helped them appreciate the value of people over things as well as fostering an increased appreciation for their families.
The research also highlighted a disparity in the way women and men have handled the pressures of work during the recession.
"Digging a little deeper into the data, it was evident that men's reflective, and often remorseful, thoughts were driven by recession-related job insecurity and its subsequent role in encouraging hostile work treatment," said Wayne Hochwarter, a business professor at FSU, who conducted the research.
Such stress is apparent in the comment of one study participant, a 48-year-old manager of a production facility who was laid off by his longtime employer.
"I broke my back for this company, missed my kids growing up, and for what? Nothing!" the man said.
Women's thoughts, on the other hand, were triggered by conflicts between work and family obligations. Women reported that job obligations have increased in recent years — both in terms of time and energy — resulting in fewer hours engaged in family life.
---