Social Security, Medicare, Pentagon slashed by deficit commission
Under the proposal, Medicare spending, Social Security, the Pentagon's budget, and earmarks would be curtailed in a plan that cuts $3 in spending for every $1 in tax increases.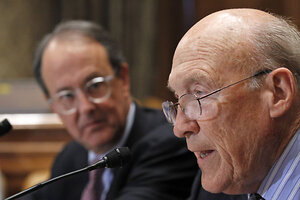 Alex Brandon / AP
Voters who last week sent Washington a message to wrestle the spiraling debt under control have gotten a message back from the leaders of a White House budget commission: It will hurt.
A proposal released Wednesday by the bipartisan leaders of President Barack Obama's deficit commission suggested cuts to federal Social Security pension benefits, deep reductions in federal spending and higher taxes for millions of Americans to stem a flood of red ink that they said threatens the country's very future.
Interest groups on the right and the left squealed, predictably, about the plan, which would cut total deficits by as much as $4 trillion over the next decade — much of it from programs long considered all but sacred.
Besides Social Security, the Medicare health care program for the poor would be curtailed. Tax breaks for many health care plans, too. And the Pentagon's budget as well in a plan that couples $3 in spending cuts for every $1 in tax increases.
The full commission has yet to make recommendations, and the chairmen acknowledged their plan was dead on arrival — but said it would prompt a more realistic national debate about what it'll take to solve the nation's fiscal woes.
Obama, in Seoul, South Korea, declined to comment on the commission's work but said, "We're going to have to take actions that are difficult and we're going to have to tell the truth the American people." He said there was a lot of rhetoric about the country's debt and deficits but that "a lot of the talk didn't match up with reality."
---