Smartphones coming for AT&T's high-speed network
Smartphones from Motorola, HTC, and Samsung will run on AT&T's 4G network, which is due out later this year.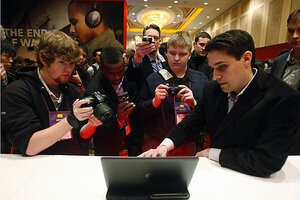 Isaac Brekken/AP
AT&T Inc. says it is on track to start rolling out its next-generation wireless technology in the second half of this year, and the company joined handset makers Wednesday to show off several smart phones that will take advantage of a speedier version of the current network.
AT&T previously said it planned to roll out the next-generation LTE, or Long Term Evolution, technology this year. But the head of AT&T's consumer business, Ralph De La Vega, had not narrowed it down to the second half until Wednesday. The company also said it expects to finish the new network by the end of 2013, sooner than it had expected.
LTE is a standard technology behind the next-generation cellular networks, known as 4G. It is designed from the ground up to carry data. Network operators expect not just higher speeds but lower operational costs with LTE.
At a developer summit in Las Vegas ahead of the annual International Consumer Electronics Show, De La Vega said AT&T has nearly finished its rollout of HSPA+, an upgraded 3G network that AT&T considers part of its 4G network because it offers similar speeds.
After initially resisting, the International Telecommunications Union, a standards-setting body, has approved the practice of calling upgraded 3G networks "4G" — something that AT&T competitor T-Mobile USA also does.
---