Elvis Presley Enterprises continues to sue long after Elvis has left the building
Elvis Presley Enterprises is suing men in Florida, England, Wales, and elsewhere for infringement of intellectual property rights after circulation of box sets not authorized by Elvis Presley Enterprises.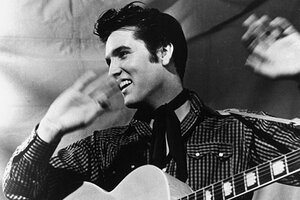 AP/File
Elvis Presley Enterprises said it's suing men in Florida and England on claims of copyright infringement and illegal sale of a DVD and CD box set of recordings and footage of the singer's performances.
Meanwhile a third person, Europe-based DJ Spankox, is disputing a British court ruling against him in a trademark infringement lawsuit filed by the company.
The Memphis-based company said Wednesday it filed a copyright infringement lawsuit in the Chancery Division of the High Court in England and Wales against Joseph Pirzada, alleging he is the source of the box set.
The set includes footage from a 1977 television special called "Elvis in Concert" and raw footage of Elvis in Omaha, Neb., and Rapid City, South Dakota, according to the company, which owns copyrights on those materials.
---