Internet access, cable TV, phones boost Comcast earnings
Internet access and other services bundled together are pushing up Comcast's revenue per customer.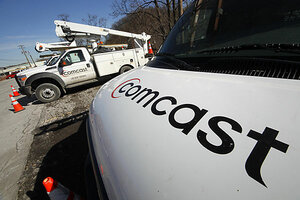 Gene J. Puskar/AP
Comcast Corp., the nation's largest cable TV company, on Wednesday posted a fourth-quarter profit that edged past analysts' expectations as more customers signed up for multiple services, such as Internet access with phone service or cable TV, and the loss of video subscribers slowed.
The company recently became the new majority owner of NBC Universal. Its deal to buy a 51 percent stake in NBC Universal closed in January, so the unit was not reflected in the results for the three months through December.
Comcast's Class A shares rose $1.09, or 4.5 percent, to $25.25 in pre-market trading.
The Philadelphia-based company with operations in 39 states said it lost 135,000 video subscribers in the quarter, fewer than some analysts expected and less than the 199,000 it lost a year earlier. It finished the year with 22.8 million.
There were fewer cancellations by people who signed up mainly for promotional prices in 2009, and more people stuck around thanks to more high-definition channels and expanded programming brought on by the move to digital delivery.
The company posted net income of $1.02 billion, or 36 cents per share, for the three months ended in December, up from $955 million, or 33 cents, a year ago.
Excluding costs from the NBC Universal deal and other one-time items, earnings came to 35 cents per share, beating the 32 cents expected by analysts polled by FactSet.
---