Insider trading: Ex-Goldman director is charged
Insider trading charge brought against Rajat Gupta, a former Goldman Sachs board member.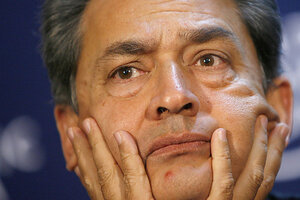 Alessandro Della Bella / AP / File
WASHINGTON (AP) — Federal regulators have charged a former Goldman Sachs board member with insider trading, saying he gave confidential information to the key figure in what prosecutors call the largest hedge fund insider-trading probe ever.
The Securities and Exchange Commission announced the civil charges against Rajat Gupta on Tuesday. The SEC said Gupta told Raj Rajaratnam, founder of the Galleon Group hedge fund, that Warren Buffett's Berkshire Hathaway planned to invest $5 billion in Goldman before it was publicly announced at the height of the financial crisis.
Gupta also is charged with giving Rajaratnam confidential earnings information from Goldman and Procter & Gamble. Gupta served on Goldman's board from 2006 until last May. He was a P&G board member from 2007 until resigning Tuesday, after the charges were announced.
Gupta was an investor in some of the Galleon hedge funds when he passed the information along, and he had other business interests with Rajaratnam, the SEC said. Rajaratnam used the information from Gupta to illegally profit in hedge fund trades, the SEC said.
Prosecutors have said Rajaratnam generated profits of more than $50 million after getting inside information about public companies' earnings and plans for mergers and acquisitions. The information on Goldman made Rajaratnam's funds $17 million richer, the SEC said. The P&G data created illegal profits of more than $570,000 for Galleon funds managed by others, the SEC said.
---