2012 Beetle: new design showcased at Volkswagen show
2012 Beetle makes its debut in New York. Traditionalists miss its huggable curves but others are excited about an updated interior and more powerful, fuel efficient engine.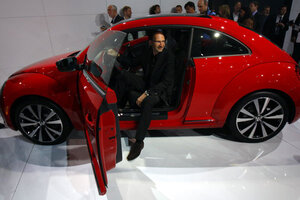 Mike Segar/Reuters
In its 73-year history, the Beetle has evolved from the hippie ride of choice to a cute chick car. Now Volkswagen is reinventing it again.
The company introduced an edgy design Monday for its signature model, giving it a flatter roof, a less bulbous shape, narrowed windows and a sharp crease along the side. Gone is the built-in flower vase on the dashboard.
It's the first overhaul since 1998, when Volkswagen came up with the New Beetle. VW, which wants to triple its U.S. sales of cars and trucks over the next decade, says the changes will appeal to more buyers, especially men.
But the changes could also anger fans, who love the little four-seater for its huggable curves and perky attitude.
"I hope they keep the fun in the car, and all the round angles," says Howie Lipton, who owns a computer repair business in Hamilton, Ontario, and helps organize an annual New Beetle show in Roswell, N.M.
Lipton says he was hoping VW would update the spare interior, and his wish has been granted. VW's lead Beetle project manager for the U.S., Andres Valbuena, says the 2012 model will have a navigation system, a significantly larger trunk, more luxurious materials and ambient lighting.
"It ties in more with our other products. It's more upscale," Valbuena says. The 2012 Beetle goes on sale this fall. VW won't yet say how much it costs.
The design is based not on the New Beetle but on the original Beetle, which was created in Nazi Germany in the 1930s, came to the U.S. after World War II and became a counterculture favorite because of its low cost and unusual look.
---