Stocks end modestly lower as energy slides
The Dow fell about 3 points, ending a four-day winning streak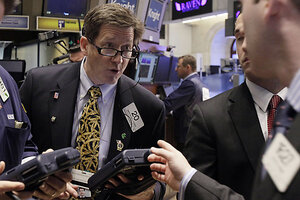 Richard Drew / AP
By Abby Schultz and JeeYeon Park, CNBC.com
Stocks closed modestly lower Monday, coming off highs reached after news of Osama Bin Laden's death, as investors considered the potential for terror attacks in retaliation for the killing.
The Dow Jones Industrial Average snapped a four-day winning streak and fell 3.18 points, or 0.02 percent, to close at 12,807.36, following an impressive showing in April that ended with the index at multi-year highs.
Exxon Mobil, Chevron and DuPont fell, while Alcoa and American Express gained.
The S&P 500 fell 2.39 points, or 0.2 percent, to close at 1,361.22, while the Nasdaq fell 9.46 points, or 0.33 percent, to close at 2,864.08.
The CBOE Volatility Index, widely considered the best gauge of fear in the market, rose to nearly 16.
Among key S&P 500 sectors, energy and materials fell, while health care rose.
Futures spiked overnight after news U.S. forces killed Bin Laden, but the market turned lower as "market participants began to focus upon the prospects for a potential surge in terror attacks against western targets in retaliation for the killing," UBS Wealth Management wrote in a research note to clients.
Also, profit-taking appeared to take hold throughout the latter part of the day, said Ryan Detrick, senior technical analyst, Schaeffer's Investment Research.
"We don't think it's any major concern," Detrick said. "The fundamental reasons driving us higher are still definitely in place."
The VIX usually rises when the market falls, but it gained throughout Monday's session along with stocks, signaling the late session turn around.
The fact that VIX hasn't broken below 15 for any length of time is a "clear concern" for bullish-minded investors, Detrick added. But he believes the so-called fear index will move lower, and wouldn't be surprised for it to go down to around 10, where it traded often during the bull market of mid-2004 to mid-2007.
"We don't think the bull market is over," Detrick said.
Stocks also may have been under pressure by news U.S. Treasury Secretary Timothy Geithner told lawmakers the Treasury will start taking "extraordinary" steps to extend the federal government's authority to borrow funds as it nears the debt ceiling.
News of Bin Laden's death should be positive for stocks, as it will prompt more investors to buy into the market, JP Morgan analysts wrote in a note to clients.
That's because the death of al Qaeda's leader means there is less risk in the world, and consumer confidence should rise on news of a major U.S. victory, the analysts said. Also, "catastrophe" assets like commodities will be worth less than equities, further pushing inflows into stocks, they said.
"The death of Osama Bin Laden, in our view, will have durable positive effects on equity markets, persuading investors to diminish fears on global security (a strong case to be made that the war on terror is over), leading to lower equity risk premiums (read P/E of stocks go up)," the analysts wrote.
Not everyone agrees, however. "The fact he has been brought to justice, sure, it's a positive, it's great for all parties involved, ....but in the grand scheme of things it's a non event," said Dan McMahon, director of equity trading at Raymond James. "The markets are about earnings and the economy."
The markets are up considerably since Bin Laden's al Qaeda network struck at the World Trade Center on Sept. 11, 2001. The Dow is up nearly 34 percent, while the S&P 500 is up more than 25 percent, and the Nasdaq has gained more than 70 percent.
This week will be lighter for earnings results, but several companies will report results this week, including Anadarko Petroleum after the market closes Monday. Of the 328 companies reporting so far, or 66 percent of all S&P 500 companies, 72 percent have beaten earnings estimates while 68 percent have beaten revenue estimates, according to Thomson Reuters.
Humana gained after reporting a 22 percent rise in first quarter profits, ahead of expectations.
---