Stocks end lower in selloff as silver, oil slide
The Dow fell 83 points, and commodity prices fell due to concerns of an economic slowdown in the US, China, and India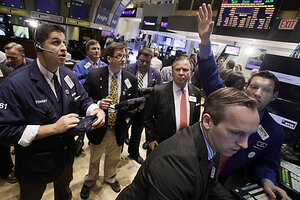 Richard Drew / AP
By Abby Schultz and JeeYeon Park, CNBC.com
Stocks closed broadly lower Wednesday amid sliding prices for precious metals and oil, and news of weakness in the U.S. economy.
The Dow Jones Industrial Average fell 83.93 points, or 0.7 percent, to close at 12,723.58, after edging into positive territory by less than a point at the end of a choppy session on Tuesday.
Among Dow components, Caterpillar, DuPont and General Electric fell, while Intel gained.
The S&P 500 fell 9.30 points, or 0.7 percent, to close at 1,347.32, while the Nasdaq fell 13.39 points, or 0.5 percent, to close at 2,828.23. The CBOE Volatility Index, widely considered the best gauge of fear in the market, rose above 17.
Most key S&P 500 sectors sank, led by materials, energy and industrials.
Commodity prices fell amid concerns of an economic slowdown in India, China and the U.S., on news of weakness in the service sector and jobs.
Silver futures plunged below $40 an ounce, taking a breather from its rally in the last few weeks. Silver futures had skidded nearly 8 percent on Tuesday, as increased costs for trading futures pushed investors from the market. Gold futures fell more than 1.5 percent, dropping to below $1,515 an ounce.
The dollar hit a three-year low against a basket of currencies, as the euro gained to nearly $1.50.
And oil continued to trade lower. London Brent crude fell 1 percent to close at $121.19, while U.S. light crude fell 1.63 percent to $109.24.
Most oil giants declined across the board, including ExxonMobil, ConocoPhillips and Chevron.
The market is likely to be choppy in May through July, as it has been in past summers, but stocks should turn higher again before the end of the year, Jordan Kotick, global head of technical strategy at Barclays Capital, said on CNBC.
"We're at the highs for the last couple years. This is like the commodity markets, warning us that the market is going to step back for a bit, reassess," Kotick said. "That should give risk a reason to fade into May, June and July."
News that the service sector slowed in April triggered the broad downdraft in the market, which had hit multi-year highs in April, said Marc Pado, U.S. market strategist and technical analyst at Cantor Fitzgerald.
---