Stocks close mixed ahead of jobs report
Following a dismal performance Wednesday, the Dow fell about 41 points, the S&P 500 dropped about one point, and the Nasdaq gained about four points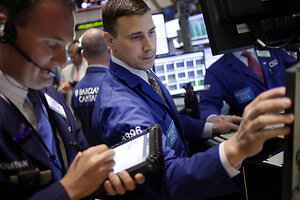 Seth Wenig / AP
By Abby Schultz and JeeYeon Park, CNBC.com
Stocks lost steam in the last few minutes of trading to close mixed Thursday ahead of the government's monthly jobs figure and after EU officials said no agreement has been reached on additional funding for Greece.
The Dow Jones Industrial Average fell 41.59 points, or 0.34 percent, to close at 12248.55, after plunging more than 2 percent on Wednesday
Among Dow components, Wal-Mart and Chevron traded lower while Bank of America and Caterpillar rose.
The S&P 500 slipped 1.61 points, or 0.12 percent, to finish at 1312.94. The tech-heavy Nasdaq gained 4.12 points, or 0.15 percent, to end at 2773.31.
The CBOE Volatility Index, widely considered the best gauge of fear in the market, slipped 1.15 percent to end at 18.09.
Among key S&P sectors, industrials and financials gained, while consumer staples and telecoms slipped.
Moody's warned that the U.S. rating could be placed under review for a possible downgrade if lawmakers in Washington do not make substantive progress in budget talks by the middle of July.
---