Stocks close lower for fifth straight week
The Dow closed down more than 90 points after the Department of Labor released a discouraging jobs report on Friday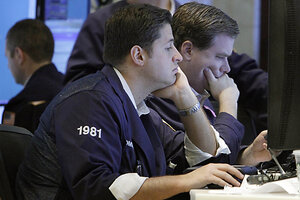 Richard Drew / AP
By Abby Schultz JeeYeon Park, CNBC.com
Stocks finished lower for the fifth-consecutive week after the disappointing government jobs report in addition to other weak economic news throughout the week indicated signs of a slowdown.
The Dow Jones Industrial Average fell almost 97 points, recovering from a 144-point drop earlier in the session.
AmEx and DuPont were among the blue-chip laggards. And tech bellwether Cisco tumbled to multi-year lows.
The S&P 500 and the tech-heavy Nasdaq also finished lower. The CBOE Volatility Index, widely considered the best gauge of fear in the market, slipped 0.77 percent to finish at 17.95.
All key S&P sectors finished lower this week, the first time since the 2010 market lows in July.
For the week, the Dow declined 2.33 percent, the S&P shed 2.29 percent and the Nasdaq dropped 2.32 percent.
This is the first time the Dow has fallen five weeks in a row since July 2004, and the first time for the five-week stream by the S&P 500 since July 2008.
The fact the S&P 500 has moved back above 1,300 after it broke through that level earlier in the day may be a good sign that the market isn't ready to move much lower, said Marc Pado, market strategist at Cantor Fitzgerald.
---