Social Security payments: $6.5 billion in overpayments
Social Security payments were made to seniors in 2009, federal investigator says. One in 10 Social Security payments to very poor were improper.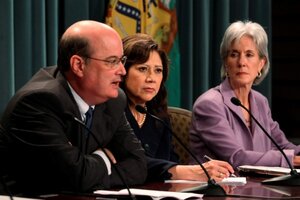 Jason Reed/Reuters/File
WASHINGTON – The Social Security Administration made $6.5 billion in overpayments in 2009, including $4 billion under a supplemental income program for the very poor, a government investigator said Tuesday.
In all, about 10 percent of the payments made by the agency's Supplemental Security Income program were improper, said Patrick P. O'Carroll Jr., the inspector general for Social Security. The program has strict limits on income and assets, and most of the overpayments went to people who did not report all their resources, O'Carroll said.
Error rates were much smaller for retirement, survivor and disability benefits, which make up the overwhelming majority of Social Security payments, O'Carroll told a congressional panel.
"By any standard, the scope of these problems is considerable," said Rep. Charles Boustany, R-La., chairman of the House Ways and Means Oversight subcommittee. "Regardless of whether a payment occurs because of simple error or outright fraud, improper payments harm Social Security programs in the long term, jeopardizing benefits for those who may need them in the future. They also cost taxpayers billions of dollars each year."
Some people received payments they were not entitled to while others received more than they should have.Social Security also made nearly $1.5 billion in underpayments, raising the total amount of improper payments to $8 billion in the 2009 budget year, O'Carroll said.
With lawmakers working to reduce soaring budget deficits, efforts to reduce improper government payments are getting attention in Congress and the White House. In 2009, President Barack Obama directed federal agencies to reduce improper payments, and last year, Congress set a goal of reducing the payments by $50 billion by 2012.
---