Stocks sink after dismal June jobs report
After a strong week in gains, Friday's jobs report, which put the June unemployment rate at 9.2 percent, pulled stocks down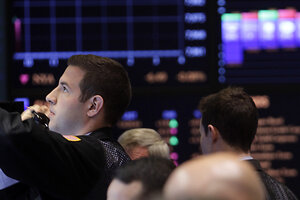 Seth Wenig / AP / File
An unexpected drop in hiring put an end to the excitement that had been bubbling up on Wall Street over the past two weeks.
Stock indexes fell sharply Friday, erasing most of the week's gains, after the government reported that U.S. employers created the fewest number of jobs in nine months. The 18,000 net jobs in created in June were a fraction of what many economists expected and dampened hopes that the economy was improving. Private companies added jobs at the slowest pace in more than a year. The unemployment rate edged up to 9.2 percent, its highest level this year.
A broader measure of weakness in the labor market was even worse. Among Americans who want to work, 16.2 percent are either unemployed or unable to find full-time jobs. That was up from 15.8 percent in May.
"There's just a lot more evidence than before that we're in an extended weak patch," said Brian Gendreau, market strategist for Cetera Financial Group. He said private economists will likely reduce their projections for overall economic growth this year.
The Standard and Poor's 500 index fell 9.42 points, or 0.7 percent, to 1,343.80. That eliminated the index's gains from Thursday and left it with a 0.3 percent gain for the week.
The Dow Jones industrial average lost 62.29, or 0.5 percent, to 12,657.20. The Dow, which had been down by as much as 150 points Friday, had only its second down day over the past nine. The Nasdaq composite dropped 12.85, or 0.4 percent, to 2,859.81. It was its first loss in two weeks.
---