Crude oil prices fall after S&P downgrades US debt
Crude oil prices dropped more than $3 a barrel on Monday to about $83. The drop brings crude oil prices down more than $30 since May.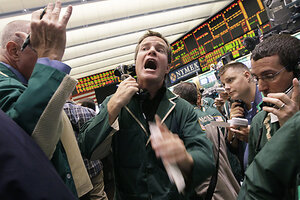 Mary Altaffer / AP
Oil prices fell over $3 to near $83 a barrel Monday after Standard & Poor's downgraded the U.S.'s credit rating — a blow to confidence that could hurt economic growth and demand for crude.
By early afternoon in Europe, benchmark oil for September delivery was down $3.52 to $83.36 a barrel in electronic trading on the New York Mercantile Exchange. Crude rose 25 cents to settle at $86.88 on Friday.
In London, Brent crude was down $3.58 at $105.79 per barrel on the ICE Futures exchange.
Oil plunged after Standard & Poor's announced Friday it was lowering its rating for U.S. debt one notch from AAA to AA+. Investors are concerned the first-ever U.S. debt rating downgrade will batter already weakening consumer confidence and hurt economic growth.
Crude has dropped from $100 last month and near $115 in May.
"A drastic weakening of sentiment has brought oil prices down sharply, with sovereign debt fears key in a mounting loss of faith in economic, and hence demand, prospects," Barclays Capital said in a report.
Crude traders often look to stock prices as a barometer of overall investor confidence, and oil prices were swept down Monday by a major sell-off across Asian stock markets, followed by falling indices in Europe, as well.
---