Silver prices, gold prices on the rise
Silver prices, as well as the prices of gold, platinum, and diamonds, rose on Tuesday, amid a declining confidence in the US dollar. Rising gold and silver prices reflect heightened anxiety among investors.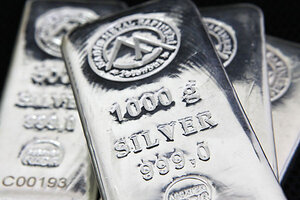 Murad Sezer / Reuters / File
NEW YORK (AP) — Gold prices pushed to new heights Tuesday as investors digested the possible consequences of the lowered U.S. credit rating and Europe's debt crisis on a slowing global economy.
The declining appeal of the U.S. dollar as a safe place to park funds and nervousness about flagging global growth have helped propel gold.
Some investors view gold as a safer bet amid rising worries about debt levels of the major economies and uncertain stock markets. Its value, unlike that of a currency, doesn't hinge on whether countries can make their bond payments, or on the vigor of their economies.
Gold futures rose $29.80, or 1.7 percent, to $1,743 per ounce after setting a record price of $1,782.50 earlier in the day.
The metal's price has more than doubled since the recession began in late 2007, and its climb accelerated this summer.
Gold is more than a currency substitute or an investment for scared traders desperate to latch on to an asset that isn't losing value.
It's also a material used in industrial products and by consumers.
With every fresh high the metal notches, the more consumers will have to pay for engagement rings, gold crowns for their teeth and perhaps even electronics.
Tiffany & Co., the high-end jewelry seller with the iconic blue boxes, has raised prices on some products twice this year, in January and again in June, said company spokesman Mark Aaron.
---