Android smartphones get 'ecosystem supercharge' [VIDEO]
Android smartphones and their users can thank Google for splashing out $12.5 billion to buy Motorola Mobility along with all the patents they hold. The purchase will be Google's largest.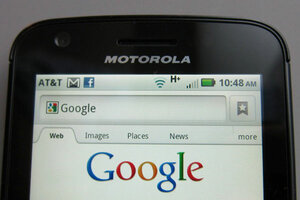 Brendan McDermid/Reuters
It may be the boldest move yet by a company known for being audacious: Google is spending $12.5 billion to buy Motorola Mobility. But the big prize isn't Motorola's lineup of cellphones, computer tablets and cable set-top boxes.
It's Motorola's more than 17,000 patents — a crucial weapon in an intellectual arms race with Apple, Microsoft and Oracle to gain more control over the increasingly lucrative market for smartphones, tablets and other mobile devices.
If approved by federal regulators, the deal announced Monday could also trigger more multibillion-dollar buyouts. Nokia Corp., another cellphone manufacturer, and Research In Motion Ltd., which makes the BlackBerry, loom as prime targets.
The patents would help Google defend Android, its operating system for mobile devices, against a litany of lawsuits alleging that Google and its partners pilfered the innovations of other companies.
In addition to the existing trove of patents that attracted Google's interest, Motorola, which introduced its first cellphone nearly 30 years ago, has 7,500 others awaiting approval.
---