Dell stock drops, company cuts forecast
Dell stock fell more than 7 percent on Tuesday, even as the company reported a 63 percent increase in second quarter net income. Dell stock earned 48 cents per share, the company said after the market closed.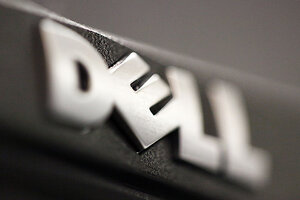 Matt Rourke / AP
Dell Inc.'s decision to cut its revenue forecast for the year shows how computer makers are getting pulled in two directions at once, stretching some investors' faith to a breaking point.
Corporate and government demand for PCs has been strong for the past year, helping to lift the industry after the Great Recession. But consumer demand has collapsed because of high unemployment and the lure of new gadgets such as tablet computers and smartphones.
Worrisome new economic signs and budget cuts threaten to hamper the recovery. They have cast doubt on the ability of Dell and other PC makers to lift themselves in a meaningful way.
Dell stock fell more than 7 percent Tuesday even as the company said its net income rose 63 percent in the latest quarter. The company lowered its revenue forecast for the fiscal year ending in January. It blamed "a more uncertain demand environment" than previously envisioned and a corporate decision to focus on more profitable deals.
The downgrade followed a barrage of bad news in recent months about the computer industry's health, and it could be a harbinger of tough times for other computer makers. Hewlett-Packard Co., the world's No. 1 PC maker, reports its results Thursday.
Shaw Wu, a technology analyst with Sterne Agee, said Dell's forecast was surprisingly weak and reflects economic troubles that are leading to lower spending globally on information technology. He added that it "definitely dampens expectations" for HP.
---