Rick Perry says Fed should open its books
Rick Perry, a 2012 presidential candidate, calls for tax changes on US profits made abroad. Rick Perry also questions some of the Fed's goals and activity.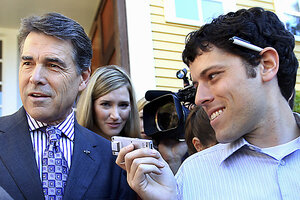 Cheryl Senter / AP
Republican presidential candidate Rick Perry on Wednesday called for more transparency from the Federal Reserve to show that the U.S. central bank was not engaging in unspecified ``improper'' actions.
Under Fed chairman Ben Bernanke, the central bank has embarked on one of the most extended periods of cheap money in U.S. history in an effort to right the U.S. economy. The Fed has been criticized by many for opaque decision making on monetary policy.
``They should open their books up. They should be transparent so that the people of the United States know what they are doing,'' the Texas governor said at a packed breakfast meeting in Bedford, New Hampshire.
``It would go a long way to showing if there had been activities that had been improper,'' Perry said.
Without such action, ``there will continue to be questions about their activities and what their true goal is for the United States,'' he added.
It was a fresh attack on the Fed from Perry, who created a stir on Monday when he said he would consider it ``treasonous'' if Bernanke ``prints more money between now and the election'' in November 2012.
But Perry's tone, in comments made to a non-partisan audience of local business people, was not as harsh on Wednesday. He said he was one of a number of Republicans who have questioned the Fed's transparency.
``I got in trouble talking about the Federal Reserve yesterday. I got lectured about that,'' Perry said.
---