NBA lockout analysis: Blame the owners
NBA lockout means fewer games for fans. So who's the problem in this NBA lockout? Looking at you, owners.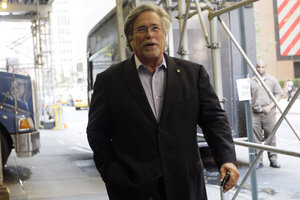 Mary Altaffer/AP
Heat owner Micky Arison owns not one but two of America's 50 largest yachts, according to a rich-person magazine. He lives on one of them. This isn't excessive in the world he inhabits. Both yachts combined aren't as large as the one built by the Russian billionaire owner of the Chelsea soccer team. Roman Abramovich, who travels with a 40-strong security detail he calls "a private army," took more than a year to build his 560-foot Eclipse, which is almost-two-football-fields massive and can't even be docked in most marinas. It is equipped with not one but two helicopter pads and a submarine.
Point is, sports owners live in a different world than the rest of us, money and power and yachts another way to keep score, their teams-as-toys orbit so distorted it Eclipses practicality so completely that they don't even notice when they are building an ego too big to be docked.
Arison is more humble than most men of his wealth, but part of the reason he bought the Heat was because billionaire Wayne Huizenga was hogging our market's sports power. Huizenga, who already owned the Dolphins and Marlins, tried to get around the rule forbidding ownership of more than two pro sports teams in one town by trying to sneak his brother-in-law in to buy the Heat. So Arison, who became the president of Carnival Cruise Lines at 30 with the help of his father, bought the Heat as a bonding gift for his son Nick, who was recently named the Heat's CEO at 30. The Heat reported losses in the millions most years and barely broke even in the championship year of Shaquille O'Neal, but it didn't much matter because sports franchises almost always appreciate and Arison accrued wealth with his other toys (like the Queen Mary 2, the world's largest ocean liner at a cost of almost a billion dollars). The Heat is something Micky and Nick share the way a less affluent father and son might go to a game and share, you know, a hot dog.
---