2013 Ford Escape: More power. More efficient. More mojo?
2013 Ford Escape will dress up like a crossover this year. The auto company says that this new 2013 Ford Escape will appeal to a younger car shopper.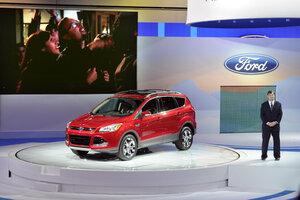 Anthony Plascencia/The Ventura County Star/AP
The Escape, the fifth-best-selling vehicle in the U.S., has been transformed from a five-passenger SUV into a sloping crossover with just a hint of minivan.
The Ford Escape, an aging vehicle that looks much like the model that first debuted in 2000, has quietly become one of the biggest success stories at Ford Motor Co.
The automaker has sold more than 200,000 of the small sport utility vehicles this year, making it the fifth-best-selling vehicle in America and the top SUV. Decent interior room and cargo space make it popular among soccer moms, while its masculine rectangular SUV design has attracted male buyers.
Now Ford plans to upset the apple cart with a complete ground-up redesign of the Escape that improves power and fuel economy.
Ford unveiled the new Escape at the Los Angeles Auto Show on Wednesday.
Some shoppers might be turned off by the new look, but other buyers may be attracted by fresh design and the car's features, said Jesse Toprak, an analyst with auto information company TrueCar.com.
"It is certainly a leap," Toprak said, "but I believe Ford is trying to be more like Hyundai in terms of design and styling with new models. They want to be more aggressive and to stand out among crowded product choices that consumers already have."
He said the new model would still have the "one-size-fits-all proposition" that has made the current Escape so popular.
---