Bank bailout in US offers roadmap for crisis in Europe
Analysis: The bank bailout of 2008-2009 could be a guide for the euro zone – but will it be a good guide? Remember that the US's bank bailout angered many Americans.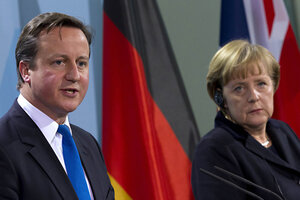 Thomas Peter/Reuters
As the European debt crisis edges closer to a break up of the euro zone, U.S. financial regulators may be reaching for emergency manuals that have gathered little dust since the last crisis.
In doing so, they will be mindful of how bitter the American public remains about the bailouts of Wall Street in 2008-09.
The Federal Reserve and the Obama administration would likely be able to draw on many of the same tools used at the height of the U.S. crisis, should Europe's sovereign debt woes spiral into a severe credit freeze or worse.
They will have the benefit of the lessons of their recent experience and improved coordination among regulators.
But it is highly unlikely Washington would resort to a new bailout fund like the $700 billion Troubled Asset Relief Program (TARP) that was used to shore up U.S. banks, insurers and automakers three years ago.
Many Americans across the political spectrum remain angry at what they perceive as protection given to Wall Street executives while ordinary people lost their jobs, homes and savings. The popular backlash helped create the Tea Party political movement and is now fueling the ``Occupy Wall Street'' protests across the country.
---