Bank stocks: 2012 could be a very good year
While it's been a hard year for bank stocks, news could pick up next year – if politics in the US and Europe settle down first. For investors in bank stocks, that's a big 'if.'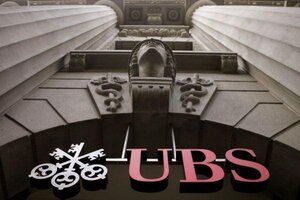 Arnd Wiegmann/Reuters/File
Although the financial sector took a hit on economic woes Thursday, a top analyst thinks the banks could bounce back in 2012, especially if policymakers are able to ease the increasing strains on the global financial system or even solve Europe's sovereign debt crisis altogether.
A "global financial meltdown" was averted when the world's major central banks on Wednesday announced a coordinated plan to support the global financial system, said David Hilder, an equity research analyst at Sesquehanna.
Bank stocks had been trading on concerns Europe might see a Lehman Brothers-type event, Hilder said. Lehman Brothers had been the fourth largest investment bank in the U.S. On September 15, 2008, it filed for Chapter 11 bankruptcy protection, marking the largest bankruptcy in U.S. history. Thanks to the coordinated efforts of the world's central banks, Hilder thinks a Lehman-type scenario is now less likely to play out. In turn, he has a favorable view on most bank stocks, calling them "incredibly cheap."
Take Bank of America, for example. Hilder likes the New York City-based bank because it has strong franchises in both consumer and commercial banking. He said it's also one of the top three global investment banks and has the best retail brokerage system in the world. BAC is a cheap stock that will do better over time, he added.
---