Wal-Mart shares drop on New York Times bribery allegations
Wal-Mart, the world's largest retailer, was accused by the New York Times of covering up $24 million in bribes in Mexico. Wal-Mart share prices dropped in early trading Monday.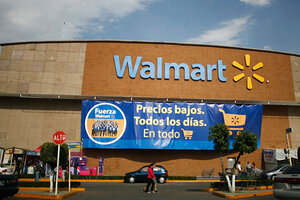 REUTERS/Bernardo Montoya
Wal-Mart Stores Inc shares were down 3.1 percent in early premarket trading on Monday following an article in the New York Times this weekend alleging that the world's largest retailer stymied an internal probe into bribery at its Mexican affiliate, Wal-Mart de Mexico.
BMO Capital Markets analyst Wayne Hood said in a research note that the allegations could hamper the discount chain's future growth both domestically and abroad.
"Articles like this will be used against the company by activists and competitors when it attempts to open stores in the US and abroad," Hood wrote in a note on Monday.
RELATED: The most, and least, corrupt nations
According to the New York Times article, in September 2005, a senior Wal-Mart lawyer was alerted by a former executive at Wal-Mart de Mexico of the use of bribery to speed up store openings in Mexico.
Wal-Mart then sent investigators to Mexico City and found a paper trail of hundreds of suspect payments totaling more than $24 million, but the company's leaders shut down the investigation and neglected to notify U.S. or Mexican law enforcement officials, the Times reported.
Citigroup said in a note that, after discussions with Wal-Mart, it believed that the retailer would conduct a "thorough and transparent" review and said any pressure on the stock was "an enhanced buying opportunity."
---