Fed says US economy has slowed, takes no new action
The Federal Reserve wrapped up a two-day meeting Wednesday in Washington. Reaction on Wall Street was mixed.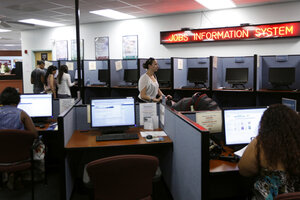 Lynne Sladky/AP
The Federal Reserve said Wednesday that the U.S. economy is losing strength and repeated a pledge to take further steps to boost growth if hiring remains weak.
The Fed took no new action after a two-day policy meeting. But it acknowledged in a statement released after the meeting that economic activity had slowed over the first half of the year. It also said unemployment remains elevated and consumer spending is rising at a somewhat slower pace.
Market reaction to the Fed's announcement was muted. Stock indexes dipped shortly after the statement was released at 2:15 p.m., but then moved higher. In the last half hour of trading the Dow Jones industrial average was flat.
The yield on the 10-year Treasury note increased from 1.50 percent to 1.53 percent.
The statement was slightly different than the one issued after the Fed's last meeting, June 19 and 20. In addition to the language noting that the economy had "decelerated," the Fed's policymaking committee said it would "closely monitor incoming information" and "will provide additional accommodation as needed" to boost the economy and job creation.
In the previous statement in June, the central bank simply said that it "is prepared to take further action as appropriate."
The Fed repeated that strains in the global market pose a significant risk to the U.S. economy, the housing market is improving but remains depressed and inflation remains tame. Policymakers also repeated their plan to hold short-term interest rates at record-low levels until at least late 2014.
Most economists say the Fed could launch another program of buying government bonds and mortgage-backed securities at its September meeting if the economy doesn't show improvement. The goal of the program, known as quantitative easing, would be to drive long-term rates, which are already at record lows, even lower.
---