Apple vs. Samsung: Battle royale of smartphone behemoths
Apple vs. Samsung: Apple wants $2.5 billion from Samsung for 'ripping off' it's iPhone and iPad technology. Samsung wants $399 million from Apply for using its technology. Closing arguments in the Apple vs. Samsung fight are expected Tuesday.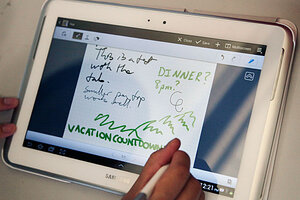 (AP Photo/Mark Lennihan)
After three weeks of listening to technology experts, patent professionals and company executives debate the complicated legal claims of Apple Corp. and Samsung Electronics Co., a jury of nine men and women are set to decide one of the biggest technology disputes in history.
Apple is demanding Samsung pay it $2.5 billion and pull its most popular smartphones and computer tablets from the U.S. market after accusing the South Korean company of "ripping off" its iPhone and iPad technology. Samsung, in turn, is demanding Apple pay it $399 million for allegedly using Samsung's technology without proper payments in making the iconic iPhone and iPad.
Apple's damage demands, if awarded, would represent the largest patent verdict in the U.S. An appeals court last year overturned the largest award to date, a $1.8 billion judgment against pharmaceutical company Abbott Laboratories.
RECOMMENDED: 20 best iPhone tips and tricks
Apple and Samsung are the top-selling smartphone makers and combined account for more than half of global smartphone sales.
Barring a last-minute settlement, jurors are scheduled to hear the dueling companies' lawyers deliver closing arguments Tuesday in the San Jose federal courtroom of Judge Lucy Koh and they could begin deliberating late that afternoon, or more likely, Wednesday morning.
---