Europe unrest reverberates on Wall Street
A dip in home sales and unrest in Europe sent stocks sliding Wednesday, extending the longest losing streak for the S&P 500 since mid-July. European stocks had their worst day in months as unrest threatened to boil over in Greece.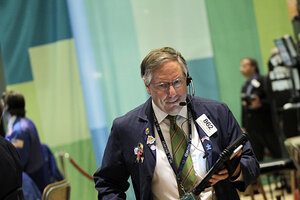 Brendan McDermid/Reuters
A mixed report about the housing market and unrest in Europe on Wednesday extended the longest losing streak for the Standard & Poor's 500 index since mid-July. Other risky assets, like European stocks and oil, fell more sharply.
The median price of new homes sold in August rose by a record amount, while sales of new homes dipped slightly. Sales in August were up 27.7 percent from a year earlier, but remain at about half the pace economists consider healthy.
Stronger data on the U.S. housing market have insulated stocks in recent weeks from a slackening global economy. Stocks' other main source of support has been the Federal Reserve's program to boost the economy by pumping money in. That idea lost some luster Tuesday after a key Fed official said he doubted it will do much good.
"There was some optimism coming into the market, and that's usually when you're most vulnerable to sell-offs when there are negative headlines" like the Fed official's comments, unrest in Europe and weaker data about the U.S. economy, said Todd Salamone, director of research at Schaeffer's Investment Research.
Indexes had risen to levels they hadn't beat for months or years, Salamone said, creating "an almost perfect storm in terms of the vulnerability to short-term impacts."
---