Powerball winners: Cautionary tales, lessons from past lottery winners
Past winners of mega-lottery drawings and financial planners offer advice to Powerball winners on how to manage a $500 million windfall. How to avoid the pitfalls of instant Powerball wealth.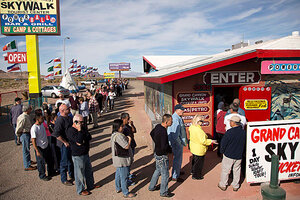 (AP Photo/Julie Jacobson)
So you just won the $500 million Powerball jackpot, the second highest in lottery history. Now what?
Perhaps it's time for a tropical vacation or a new car. There are bills to pay, loans to settle, debts to square.
Past winners of mega-lottery drawings and financial planners have some more sound advice: Stick to a budget, invest wisely, learn to say no and be prepared to lose friends while riding an emotional roller-coaster of joy, anxiety, guilt and distrust.
"I had to adapt to this new life, "said Sandra Hayes, 52, a former child services social worker who split a $224 million Powerball jackpot with a dozen co-workers in 2006, collecting a lump sum she said was in excess of $6 million after taxes. "I had to endure the greed and the need that people have, trying to get you to release your money to them. That caused a lot of emotional pain. These are people who you've loved deep down, and they're turning into vampires trying to suck the life out of me."
RECOMMENDED: Can you manage your money? Take the quiz
The single mother kept her job with the state of Missouri for another month and immediately used her winnings to pay off an estimated $100,000 in student loans and a $70,000 mortgage. She spent a week in Hawaii and bought a new Lexus, but six years later still shops at discount stores and lives on a fixed income — albeit, at a higher monthly allowance than when she brought home paychecks of less than $500 a week.
---